Chicken, rice, chili powder, onion, garlic, salsa, and some more in all in one dish!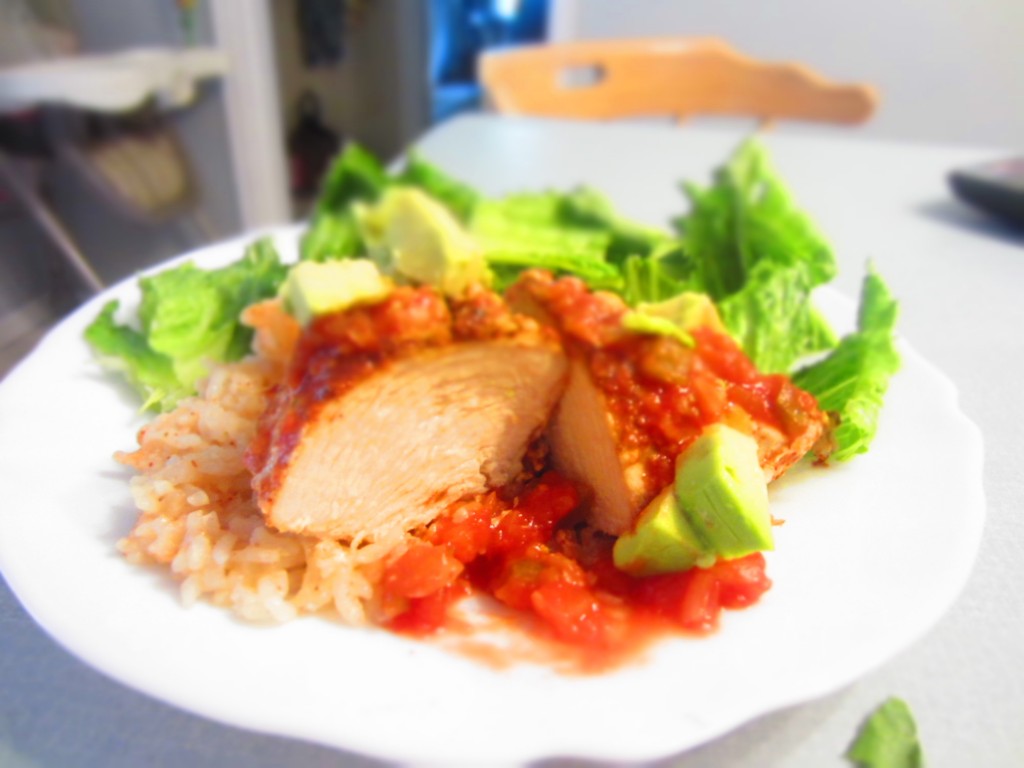 I was needing an easy prep, "one dish dinner" kind of meal recently. I'm talking, less than 10 minute prep time. Cooking time wasn't an issue, I just didn't have the energy to stand in the kitchen for hours on end. I looked in the freezer and found some chicken breasts, I knew we had rice, and I looked in the fridge and saw salsa. I was reminded of a simple "Salsa Chicken" dish I have and thought, why not do that, but make it better!
The Salsa Chicken dish simply has you cube chicken, put salsa, green chilies, and cheese on top and bake it until the chicken is cooked through. I wanted a bit more to my dish and didn't have any green chilies anyway.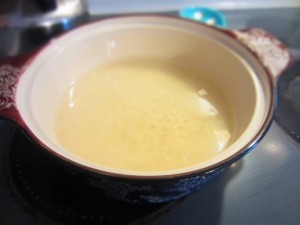 To make it a "one dish dinner" I simply put rice and water in the bottom of my baking dish.
I made up a simple taco seasoning rub and rubbed that on all sides of my 4 chicken breasts.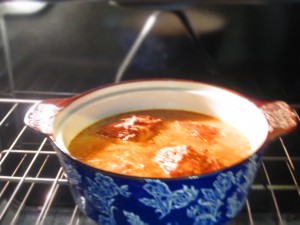 Placed the chicken on top of the water/rice mixture and baked it until the rice was done and the chicken was cooked through.
I then sprinkled a small amount of cheese on top and let that melt, poured some salsa and chopped avocados on top and served it up with a green salad.
The verdict: AWESOME! The flavor from the seasoning mix was absorbed into the rice throughout the dish. The salsa and avocados added great flavor and texture to the meal. I could serve it right out of the baking dish with no problem and this recipe could easily be adapted to feed a lot more people if needs be (I always like those kinds of recipes).
Taco Seasoned Chicken and Rice
by Becca F. Fillmore, dinnerforeveryone.com
For Rub
1 tablespoon Chili Powder
1 teaspoon Cumin
1 teaspoon dried minced onions
1/2 teaspoon garlic salt
1/2 teaspoon oregano
1/2 teaspoon crushed red pepper flakes
1/2 teaspoon seasoned salt
For Dish
1 pound chicken breast (feel free to cut this up into medium seized chunks)
1 cup rice
1 1/2 cups water
Toppings
1/2 cup salsa
cheese
avocado
Mix all spices and herbs together. Pour rice and water in a shallow baking dish. Rub seasonings all over chicken breasts. Place in water/rice mixture (seasoning will look like it's all coming off the chicken, no worries! The flavor will be there). Bake at 375 degrees for 35-40 minutes or until internal temp of chicken is at 170 degrees.