You can thank my older sister for this cookie recipe!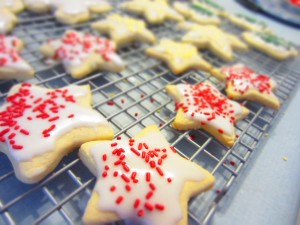 My sister said it was ok if I shared this recipe with you all as long as I told you all how awesome she is. Well, she IS awesome! Not only an awesome and hilarious friend, but an amazing cook and a huge inspiration to me. I really could go on for a long time about how great she is, then I could go on about how awesome my other 3 sisters are and how much they've inspired me too, but I will leave that all for another day and another post! Today this is about cookies!These cookies really are simple and turn out great every single time I make them. They are soft enough to enjoy, but firm enough to hold their shape when you frost them (there's nothing worse than a sugar cookie that breaks every time you try to frost it).
I also have a sugar cookie glaze recipe underneath the cookie recipe. This is just a recipe I "made up" (all glaze/frosting recipes are pretty standard). The key here is not getting the glaze too runny. This way you can still spread it on the cookies but it's runny enough that any marks from spreading it dissapear. I like a glaze on a sugar cookie every once in a while, it's a nice change from the traditional buttercream frosting.
The Softest Sugar Cookies
2/3 cup margarine
1 cup sugar
2 eggs
1 teaspoon vanilla
1 teaspoon baking soda
1/4 cup milk
4 cups flour
1/4 teaspoon salt
Cream butter, sugar and eggs. Add vanilla. Dissolve baking soda in milk; add to creamed mixture. Add flour and salt. Mix and roll out to 1/4″-1/2″ thick; cut out shapes and place on cookie sheet. Bake at 350 degrees for 6-9 minutes (for my oven its really is only 6 minutes, if I go much longer than that they start getting a little crispy). Makes about 2 dozen large cookies.
 Sugar Cookie Glaze
2 cups powdered sugar
1/2 teaspoon almond flavoring
2-4 tablespoons milk
Mix sugar and almond flavoring and 2 tablespoons of milk. Add up to 2 tablespoons more of milk in small amounts at a time to get the glaze at the right consistancy. Add food coloring now if you want a colored glaze. Pour a small amount of glaze in the middle of sugar cookie and spread glaze to edges of cookie. Add sprinkles before glaze has hardened if you want them to stay on there.