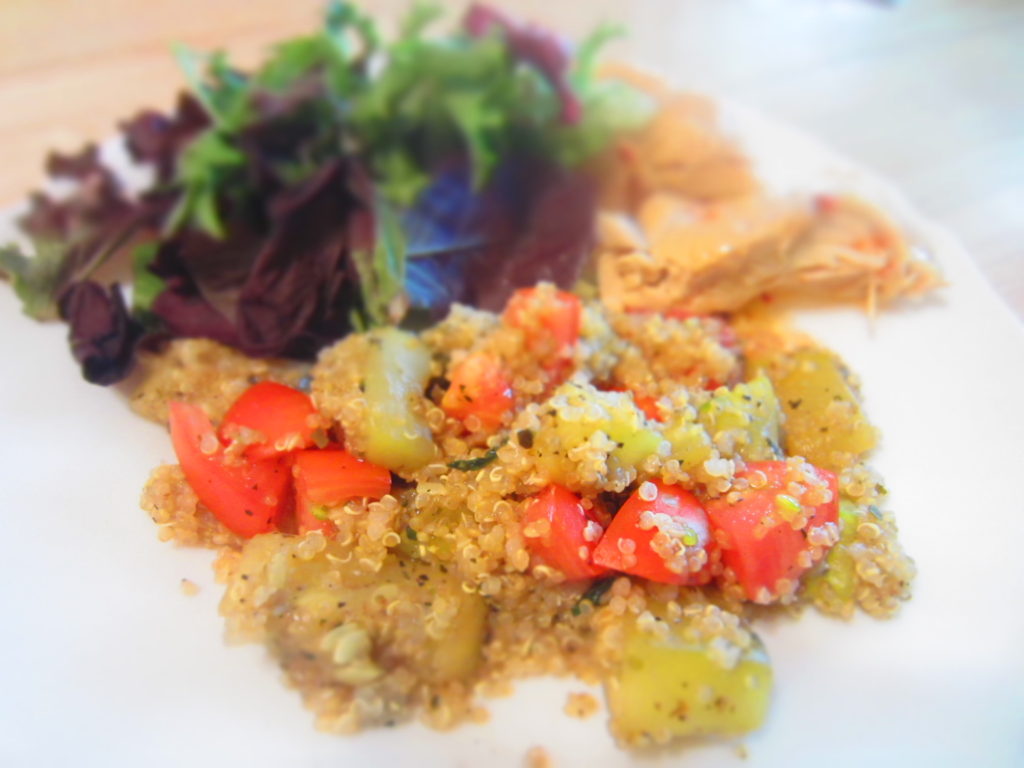 Just when I thought it was impossible to think of anything else to do with zucchini, quinoa came knocking on my door. I have used quinoa before with no problems (and lots of enjoyment) so combining the two as the season of zucchini approaches just seemed like a natural fit!
This is a great dish that can be used as a side, a vegetarian main dish, or a wonderful bed to put pork chops or chicken on top! It stands on it's own but it blends really nicely with other flavors as well. I love having a versatile recipe like this on hand!
This is a mix of cooked and fresh ingredients which gives it all sorts of wonderful textures and a nice balance of the comfort food feel and fresh off the vine taste.
I started the quinoa according to the package directions. I chopped up a couple of small zucchinis and started sauteing them in some olive oil. I added some dried herbs (feel free to add fresh in there too, how delicious would that be?) and once the zucchini was softened and cooked through I removed it from heat. By this time the quinoa was done and I combined it with the zucchini. Then I added some fresh tomatoes.
Seriously, its great! I ate it warm and at room temperature. It worked. All of it worked. So if you need to make it ahead of time, you don't even have to worry about warming it up.
enjoy!!!
Zucchini and Quinoa Toss
by: Becca Fillmore, dinnerforeveryone.com
5 cups chopped zucchini
1/2 cup chopped tomatoes
1 cup quinoa
2 cups water (for quinoa)
2 tablespoon olive oil
1/2 teaspoon pepper
1 teaspoon oregano
1 teaspoon basil
1/2 teaspoon garlic salt or powder
cook quinoa according to package directions (add 1/2 teaspoon salt to the water if directions on package does not call for it, if it calls for 1 teaspoon, decrease it to 1/2). Saute' chopped zucchini in olive oil. After a couple minutes add pepper, oregano, basil, and garlic salt. Continue to saute until zucchini  is tender (not mushy) and can be easily pierced with a fork.When quinoa is cooked and zucchini is done remove both from heat and pour them in a bowl. Add fresh tomatoes and combine. Serve warm, at room temperature, or cold!